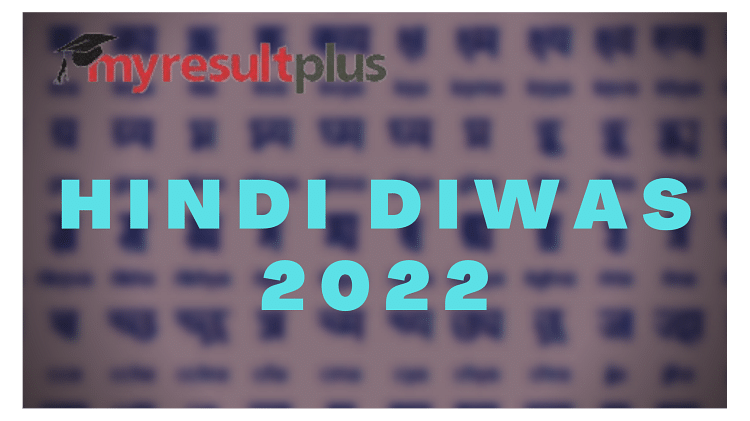 Hindi Diwas 2022 Today
– PC : My Result Plus
Hindi Diwas 2022: Heading all the other 21 official languages of India, Hindi boasts of 342 million speakers throughout the world, to celebrate the glory of which, the Hindi Diwas is observed across the nation on September 14, 2022, every year. The status of the official language was conferred on Hindi in the year 1949, as the language issue was an important concern in the Constituent assembly.
Thus, the Constituent Assembly landed on the decision to adopt Hindi written in the Devanagari script along with English as the official and working language of the country. Post this, the first Hindi Diwas celebrations were observed across the country on September 14, 1953, after the first Prime Minister of India, Pandit Jawaharlal Nehru, felt the dire need to promote the use of Hindi.
 
Owing to the vast linguistic and cultural diversity of the country, tussles have always been there between Hindi and other languages of India, following which, the Constitution took to carry out the official proceedings of the state in English and its local language. The same explains the reason why Hindi is not declared the National language of India despite being spoken by more than 40 percent of the Indian population.
The Hindi language, as well as the various dialects that have emerged from it are spoken by a major chunk of people. Most of the Hindi speakers in the country belong to Northern and Central India, in states such as Madhya Pradesh, Uttar Pradesh, Delhi, Uttarakhand and Himachal Pradesh. The language is spoken in other states too, albeit less than the said states.
 
Numerous literary and cultural events are staged every year during the Hindi Diwas celebrations to commemorate the contribution made by various dignitaries towards the Hindi language. In addition to this, prestigious awards such as Rajbhasha Kirti Puraskar and Rajbhasha Gaurav Puraskar awards are conferred on departments, ministries, Public Sector Units (PSUs) and citizens for promoting and propagating the language fervently.
 
Interesting Facts About Hindi:
 
Here are certain facts about the Head of the official languages of India, which explain its distinctiveness well.
Hindi is a descendant of Sanskrit language.
More than 50 crore people of India utilise Hindi as a tool for communication.
As per the 2019 data, Hindi language registered as many as 615 million speakers worldwide.
The language has ensured its dominance and individuality in Oxford Dictionary too, as commonly used Hindi words such as Surya Namaskar, Jugaad, Bazaar and Jungle are officially a part of the dictionary now.
Hindi is also spoken in countries other than India, such as Guyana, Trinidad and Tobago, Suriname, Mauritius, Nepal and Fiji, where Indians are present in thick numbers.
Related Articles

on Current Affairs
Source link